West Bengal Handicrafts – Art of Handicrafts
West Bengal – A Land with Sweetness of Art and Craft
West Bengal is the land of creative talents which portrays the exquisite skills of artisans to create marvellous handicraft items. Handicrafts of west Bengal are the backbone of the rural economy of the state as it fulfil the need of the artisans who produce excellent pieces of art and put in their skilful efforts in making wooden craft items, kantha embroidery, horn craft, jute craft, sholapith art, rag and clay dolls, dhokra craft, pottery, textile, cane and bamboo craft, terracotta. These are fascinating handicraft items which attracts worldwide attention.
MOST POPULAR HANDICRAFT ITEMS OF THE WEST BENGAL ARE:
SHOLAPITH ART –
Sholapith is the unique craft of West Bengal. These are mostly used in marriages and at various festivals which are also used as decorative items. Milky –white sponge wood is used to make creative pieces of art. It is termed as white ivory which is most popular for head wears which are majorly used in marriages. This different form of art pieces are used as home decor in form of decorative fans, images of God and Goddess. At time of durga puja this sholapith art plays a significant role, people use various kinds of crowns and backdrops for social ceremonies.
 RAG AND CLAY DOLLS –
Rag dolls are made with snal cloth, cotton and wool. These are majorly adorned by children and are awesome home décor pieces. They are connected with the culture of west Bengal and gives traditional touch to home when placed properly. These items are very attractive and eye catchy and are made by the local artisans of the state by using their craftsmanship to make such rag and clay dolls. Artisans use their skill in moulding clay to form beautiful pieces which attracts the visitors.
TERRACOTTA –
Terracotta art gives different dimensions to the field of art. Traditional decorative designing is done on the items by burning and moulding clay to make a desired product. This art form is very famous in west Bengal as it is associated with the religion in a way as artisans produce beautiful terracotta items which are used for religious purpose such as sculptures of god and goddess, animals, birds and looks mazing when placed at home or at office to enhance the beauty of the place.
CANE AND BAMBOO CRAFT –
Cane and bamboo products are the traditional form of art. Mostly made in villages and are popular in cities. Furniture is also made from cane and bamboo which are very famous in national and international market. In today's world the cane and bamboo furniture are placed at lawn or garden and at balcony's to give different look to a place. These are easy to place and maintain and are important part of decorating different places with different items. Different cane and bamboo items are made by the craftsman for household and home decor purposes.
KANTHA EMBROIDERY –
Kantha embroidery is distinctive art of making decorative images on clothes by outlining and stiching the fabric with coloured threads. This type of embroidery enhances the beauty of the fabric and gives a traditional look. It can be done on cotton or silk. Traditional embroidery is done on sarees, suits, kurtas, dhotis and are useful for women as well as men. You will find this embroidery on cushion covers, bedspreads, quilts which looks so attractive. It plays an important role in handicraft industry. In international markets people adorn such embroidery and use these items for personal and office use.
WOOD CRAFT –
Wood craft is one of the famous craft of West Bengal. Innovative techniques are used to make wooden items such as statues of animals, birds, god and goddess which look exclusive. It is a unique craft made by carving wood and giving it a different shape, size and adding colours to it to give them exquisite look. Artisans use new techniques to produce aesthetic products. Deities are stylised to give them modern look and capture the interest of national and international market.
TEXTILE –
Textile industry is so big in itself that forms the major part of export. Various types of fabrics and articles made of different materials are displayed in big garment and textile fairs which are in high demand in national and international market. Craftsmen and weavers of the west Bengal do production to satisfy the needs of the mass population. Quality depends on the type of fabric and work done on it, high quality garments are exported and are liked by the people all over the world.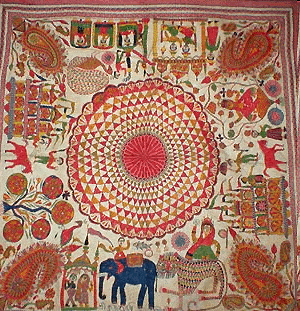 DHOKRA ART –
Dhokra art is the traditional craft of west Bengal in which different techniques are used to cast a metal to produce beautiful items mostly in figurines and images of animals, god and goddess are made. Most of the ritual articles are made which are not confined to India but all over the world. It is a tribal art followed by the craftsmen of the state which depicts the culture and traditions. In today's modern world this art form has capture the interest of the people,. People all over the world want to have such pieces of art to decorate home and give royal look wherever they are placed.
POTTERY –
In West Bengal state every art has its own kind of importance in the handicraft sector like pottery is another art form which has its own beautiful and exquisite style and are available at all corners of the state. Visitors cherish this art which is made by the local craftsmen who put in their efforts and use traditional methods to produce beautiful pottery items which are liked by everyone and looks extremely beautiful when placed at home. These are home decor items such as different lamp shades, figures of god and goddess, different jewellery, necklace, bangles, anklets. Tribes who make this are mostly found in western side of Bengal.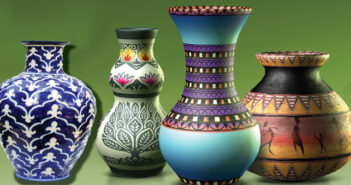 MATS AND JUTE PRODUCTS –
West Bengal is the major producer of jute products and different types of mats which are very popular in today's world.  Different types of jute products are manufactured by the women by weaving and knotting the golden fibre and make jute- blended carpets, decorative tapestry, garden pot hangings, decorative hand bags, bedspreads and lot more which are admired by the visitors as well.
HORN WORK –
One of the beautiful and distinct craft of the west Bengal is horn work. Horns combs are used to make exclusive and attractive items. Decorative pieces are made which involves time and efforts of the skilful craftsmen. It is n ancient art which attracts the visitors. Special skills are used to make this fascinating crafts which are adorned by the people all over the world.
West Bengal is the land of diverse people which is full of beauty and lively people. Handicrafts of the state are world renowned and capture the niche market as well. Visitors admire this craft made by exceptional artists of the state. You must visit West Bengal to admire the real beauty of the handicraft items which are not influenced by the modern and western ways of life. People still use their traditional approach t