Rajasthan Handicrafts – Art of Rajasthan
Rajasthan is the land of royal kings and queens. The royal living standard depicts the cultural heritage of India. The handicrafts of Rajasthan are world known. The Rajasthani handlooms and crafts are liked and sought by most markets across the world. Rajasthan, as everyone was known, is a colorful, lively and vivacious state of vast land and wonderful people. The beauty of the state is spread all over the state and so it is very difficult for tourists to segregate destinations while picking the top attractions of Rajasthan. There are different cities in Rajasthan and every city has its own unique handicraft items which enhance the beauty of the place where they are kept or decorated. Most of the cities like Jodhpur, Udaipur, Jaipur, Pushkar, Bundi and many other small places have something different and interesting facts which makes them the special place. The most popular thing about Rajasthan is the handicraft industry which makes this state unique and important in the eyes of the world as it captures the most important handicraft market of the world.
• Famous Artefacts of Rajasthan – As Rajasthan is considered as the cultural heritage of India it possesses a wide variety of world famous artifacts which are highly in demand due to its uniqueness. The artisans of Rajasthan do craft work with their skills and they follow the traditional as well as modern methods to produce the best handicraft items. These artisans do all the craft work in order to fulfill their daily needs for their survival. The depth of Indian handicrafts is deeply rooted in the culture and traditions of India. Rajasthani items of different regions of Rajasthan are famous for the royal touch which are carried for centuries. Rajasthan is popular for its colored textiles which adorns the beauty of the boutiques and the crafts bazaar in the state. In Jaipur which the capital of Rajasthan, a place is Sanganer where the most famous item is block printed fabrics, people from all across the world comes here and admire the beauty of the items, many items like sanganeri prints with different floral motifs, zig-zag motifs, geometrical designs on both side of the garment are also exported around the world and are worn by the women and men in form of shawls and turbans. This place is a true collector's delight where the one can find the true craftsmanship such as garments are printed with the help of wooden blocks and extraordinary designs are created with the hand of artisans which shows the real craftsmanship by the artisans of Rajasthan.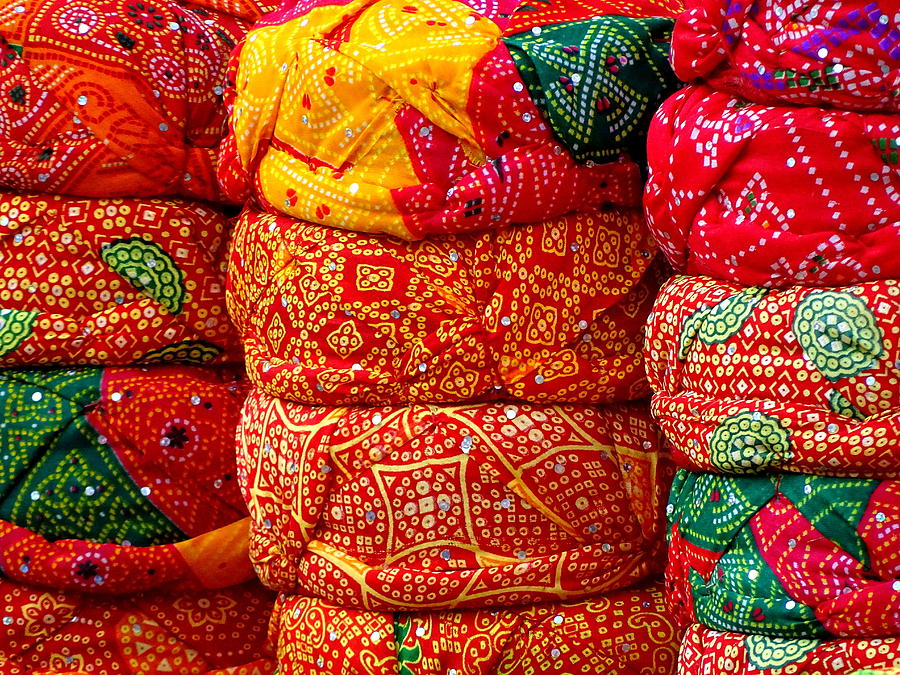 • Colourful Aura of Rajasthan – Rajasthan is called as the colorful state of India as it is full of visual spectacles, perhaps the most interesting impression that visitors and tourists take away with them after traveling around this state is that of color. A fascinating thing about  Rajasthan is a glory of the Indian handicraft which the through the light of colors and makes this state reaches new heights of luminosity and vividness in every pocket of the state. Canary yellows, emerald greens, vivid purples, electric blues and splashes of brilliant reds seem to be reinventions of traditional colors.

• Rajasthani Crafts – Rajasthan is the largest producer of handicraft items in India. The art and craft of Rajasthan are known around the world. Tourists who visit India always want to take back souvenirs of Rajasthani handicrafts. There are a wide variety of bright colored and patterned crafts of the state which are used to adorn household as interior decoration. Whereas one can see other crafts items that are produced to fulfill daily needs and utility products of daily use, garments, accessories and miscellaneous items. Amongst the unique  Rajasthani handicraft and handlooms, includes, Jewellery – silver, kundan and meenakari, Textile, Handmade Paper, Precious and Semi-Precious Stones -gemstone, Paintings, Leather crafts, Marble Handicrafts, hand-crafted items – wood, ivory, lacquer, glass, brass, silver and gold and much more. All these Rajasthani handicraft items are world renowned and everyone must collect these for themselves to get closer to the culture and traditions of Indian handicrafts.

• Most Famous Handicrafts of Rajasthan

TEXTILES – Rajasthan is famous for producing the wide variety exquisite Textiles in awesome colorful fabrics. Bandhani or Bandhej are two most gorgeous variety that portrays the rich culture of Rajasthan. These forms of textiles are made using tie and dye technique and lead to the creation of very beautiful dress materials like Kurtis, suit pieces, sarees, and so on.

MEENAKARI JEWELLERY –  Rajasthani also capture the Jewelry market, meenakari is one of the most attractive and popular forms of jewelry designing, which are mostly enameled gold and silver jewelry. Moreover, handmade or handcrafted jewellery pieces which are also unique and adorn by everyone in the world.

CARPETS AND DURRIES – Most of the carpets, comes in different and stunning designs which are made and knotted by hands. In addition to this, the cotton durries of Jodhpur and Jaipur are also appealing and looks awesome when are used as a decorative item at home. Different designs of motifs and pastel shades are used to make these durries and carpets and form the most beautiful part of home décor.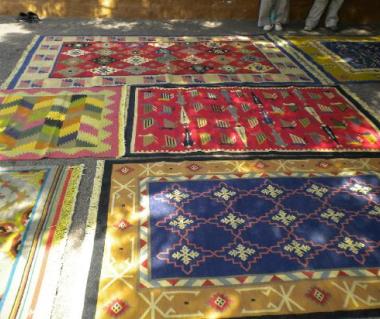 BLUE POTTERY – One more craft form of Rajasthan, popular for its exquisite work is blue pottery. There are so many craftsmen in Jaipur who make good use of their craftsmanship in preparing blue pottery in Rajasthan by using blue, green and white colours.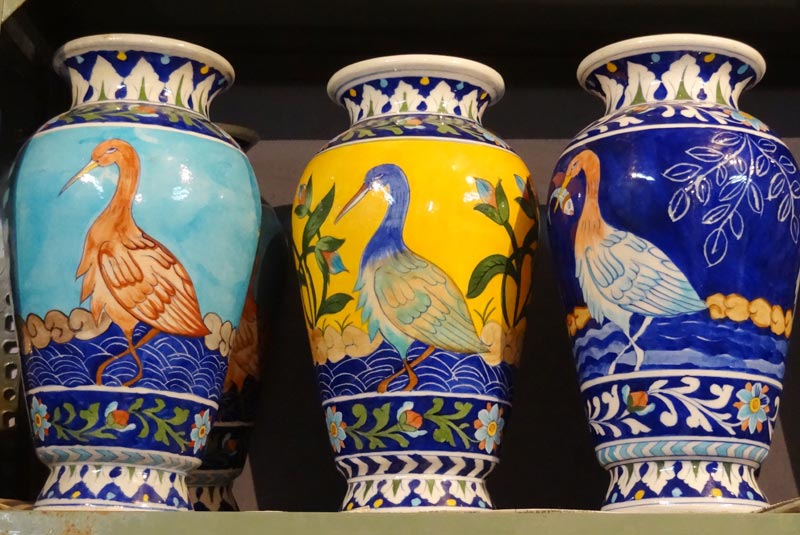 RAJASTHANI WOODEN FURNITURE –  It is something unique about Rajasthan which you cannot leave when discussion Rajasthani handicrafts. Carved wooden furniture in different styles and design are made by the artisans in different parts of the state with motif and fine design.  Latticework on wood is the most famous in wooden handicraft. Jodhpur and Kishangarh are the famous places where one can get carved casket, screens, doors, chairs, tables, shelf, etc. These wooden craft items are also popular in demand because of its ethnic touch.
LEATHER ITEMS – Most of the leather items like Mojaris or Jutis from Rajasthan is a craft form that is extremely demanded across the country as well as around the world. These are beautifully embroidered pieces with differently designed patterns and designs. In Jodhpur and Jaipur, you can find some very pretty mojaris and jutis.

MARBLE CRAFT ITEMS – This craft includes marble carved wall hangings, sculptures, statues, furniture, flower vases, fireplaces, statues, and so on. These marble items add value to the place and enhance the beauty of the home when decorated well. Marble craft items are world renowned items, they are the most valuable and intrinsic art of Rajasthan.
RAJASTHAN PAINTINGS – These paintings including murals, frescoes and miniature paintings are also other popular crafts of the Rajasthan state. There is a wide variety of paintings like batik paintings, sequence paintings, miniature and oil paintings which looks amazingly beautiful when used as a decorative item at home or office giving traditional Indian ethnic touch.

 Related Pages