Odisha Handicrafts – Art of Odisha
A Land of Rich and Diverse Artistic Handicrafts
Odisha state is known as the treasure of exquisite handicrafts. It is a spectacular world of artistry. It possesses the world renowned art pieces which are into existence since ancient times. Due to distinct traditions, culture and different regions in the state every artisan of the state has given an immense opportunity to exhibit their talent in making astonishing handicraft products which are popular all around the globe. When you visit Odisha you will find that the artistic creations of odishi people are experts in making amazing masterpieces of art and craft which are now biggest trade industry of India.
Odisha combines the utility with beauty. It is a visual treat for the visitors of the state to cherish the exclusive craftsmanship made by creative imagination.
DIFFERENT TYPES OF HANDICRAFT ITEMS OF ODISHA ARE :
It is a unique form of art made by the artisans of Odisha state. These are miniature paintings made on the cloth by using rich colours. Skilled artisans of the state use their skill to make pattachitra which means painted piece of cloth. Pattachitra is fine art reflects the ritualistic art which is sophisticated form of art in a unique way. It is a pictorial concept depicts distinct traditions, culture and regions which makes vibrant pieces of art. It is a traditional technique of painting chitras(images) on patta called (leaf). This art form is very popular in Puri and followed by the local artisans by using their skills and efforts to make such beautiful pieces of art.
It is a Dhokra craft made with brass on bell metal.  Dhokra is alloy of brass, nickel and zinc which gives an antique look. It is known as tribal metal craft which requires lot of patience and symbolizes culture of the Odisha state. This traditional art gives employment to many people of Odisha. Different items like utensils such as plates, bowls, glass, tumblers, small bells, cooking ware are made. In this folk craft of Odisha different motifs of animal figures like elephant, horse, god and goddess are made which includes intricate designs in shape of trees and branches. Dhokra art is done in different methods such as by making a clay replica which is called as hollow method to cast a product. Clay is also burned and wax is applied after drying it, few coatings are repeated to give them exquisite look. Modelling of item is done by covering it with wax –sheath and clay paste and wax is drained out by heating it and the sheath is cut out to produce the core object . This art has gained importance in the handicraft industry and is renowned all over the world.

Applique work is a unique work in which patches are stiched on the coloured fabric to give exquisite look. It is decorative piece of art in which mystical motifs are made which are used in various rituals. This patchwork is known for its bold characters and vitality. Popular applique items are garden umbrellas, shoulder bags, pillow covers, wooden or aluminium stands. Flat motifs are made on cloth and special motifs are also prepared separately so that they can be stiched on cloth and embroidery and mirror work can also be done to make the fabric much more attractive.
It is an art form in which stones are carved giving them a shape to make beautiful sculptures. This form of art is known as "Khadipathara". Odisha craftsmen exquisitely carve the stone through their disciplined effort and skills to make the stone look perfect and depict the unique artistry of the artisans. When you visit Odisha state you will find innumerable archaelogical monuments which are true example of rich cultural heritage of the state. You will find different monuments, sculptures and temples and beautiful statues of God and Goddess which are height of excellence.  Many utility items are made by the local craftsmen like flower vase, lamp shade, base, stone wares in the state to make this art flourish.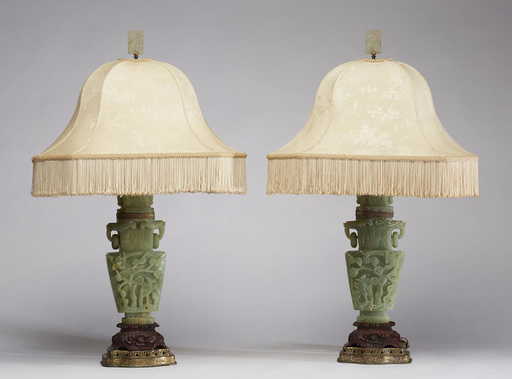 It is such a miraculous and sophisticated craftsmanship of the Odisha state. It is also called as "Trakashi" which contribute to rich tradition. Silver filigree is a process of making small holes by drawing silver to produce fine strands of wire. It is remarkable work which depicts the magic of the hands of the artists by creating marvellous master pieces. Artisans prepare framework by various silver means to make filigree articles. Unique examples of artistic excellence are small showpieces and fine jewellery pieces which are so popular not only in the handicraft sector of India but also in International market.
Paper Mache is different art form made out of paper, waste cloth and various kinds of natural fibres.  It is most skillful and creative work of the artisans. Artisans produce exclusive masks, hand bags, toys which looks beautiful and are very durable. It is unique way of creating such item which useful for decorative purposes and adds an ethnic touch to the place where they are kept. They form the most creative aspect of the handicraft sector of the Odisha state.
It is another famous and attractive art of Odisha. Carved horns and bones combs are popular which are mostly black and beautiful and catches the attention of the art lovers. It requires high degree of skill and imagination to make exclusive items. These are decorative as well as utility items in which cow and buffalo horns are used to make marvellous items.
Palm leaf painting is majorly done for writing manuscripts. It captures the god and goddess themes to make images on the leaves which depicts the Lord  Krishna and Radha, God Ganesha and Goddess Saraswati.  Text are decorated with images by using vegetable and mineral colours  to make them eye catchy and splendidly beautiful. Stories of Ramayana and Mahabharata are manuscripts which are written on palm leaves. It is traditional and ancient form of art which has gained immense popularity.
Ikat is a tie and dye process and has its own style of designing. It is an intricate method of glorious woven, gem coloured design done in silk and cotton fabric. Beautiful motif designs are made through classical methods. It is a historical art form of Odisha state.  Fabric look so awesome and are adorned by the people all over the world.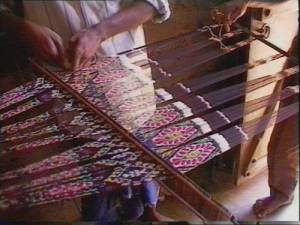 Coir craft is the craft made by coir fibre. Decorative items are made by yellow coloured fabric mostly animals and birds designs are used. Most famous figures are of horses, dinosaurs, crocodiles which are adorn by the children as well. These items are very attractive when placed at home or office and gives a different artistic look to the place. You will find coir craft items in trade fairs as well.
Another attractive art form of Odisha is bottle art in which painting is done on bottles to give them beautiful and captivating look. It mostly depicts the life of lord Krishna. Mostly bold colours are used while painting the bottles so that they are used as decorative pieces. You will find this bottle art very eye catching and they can be kept at home or office along with the furniture to give artistic look to the place.
In Odisha tribal jewellery is very much common and is associated with the custom and traditions of the state. They have different style of living, most of the women work at home to make tribal jewellery which worn by the majority if women in the Odisha state. Most of the ornaments worn by the women are made out of brass, bell metal, silver or white metal. They make different items according to the designs . There is wide variety of fashion jewellery which is now popular in the modern society as well. Women and Girls in the cities loves to wear such jewellery at special occasions according to the dress with different colours, design, style which add an ethnic taste . Now this type of jewellery contributes to the export market as well.
Odisha state has its own charm which depicts the true art excellence. You will find exquisite handicraft items which are popular since ancient items and reflects the culture and traditions of the state and unique skills of the craftsmen. Odisha is the land of culture which presents the awe inspiring master pieces to the world known as the land of rich and diverse artistic handicrafts.