Maharashtra Handicrafts – Art of Maharashtra
Maharashtra – A State of Cultural Diversity and Widest Variety of Indian Handicrafts
Maharashtra is a state with high density of population. The majority of wealth is accumulated due to its handicraft sector. The state is rich in its culture and traditions. Visitors visit Maharashtra. Maharashtra state has flourished its business by using different artistic techniques under many rulers like Marathas, the Mughals and the British. From the era of Ajanta, Warli  paintings has also gained importance. Due to the rich cultural heritage, the state depicts the true picture of the handicraft industry and shows the diverse culture and communities which possesses the exquisite arts and craft quality.
SAWANTWADI CRAFTS –  Sawantwadi as the name suggests is the name of the small district in Maharashtra where the local artisans do marvellous lacquer ware which is actually known as the Sawantwadi carft work.. Artisans produce various types of products and do lacquer work on it making them look beautiful and enhance the beauty of the place where they are kept. These product can be gifted also at time of festive season.
PAITHANI SAREES – This is one of the unique sarees which are weaved by the artisans by hand and takes almost six months to one year. This is an art which is appreciated by the large number of people. It takes a lot of experience and efficient skills to perform this task. These sarees are very made by using brocade material and silk and the zari threads. You can see motifs on the paithani sarees such as motif of lotus flower, hans, peacock, male and female parrot, peasant birds, flowering vines and also motifs lije sun, circle, star, leaves and cluster etc which are inspired by the Buddhist paintings. Gold threads are used on the pillow of sarees which makes it extra ordinary and the intricate designs of the saree are made with pure gold and zari threads making it more beautiful piece of art work.
BIDRIWARE – Those who are beauty lovers knows the real beauty of handicrafts of India can be seen in Maharashtra state. Bidriware is a form of art which is cherished by the people of not only Maharashtra state but also in India. It is an art of ancient times since the Mughal era. When you visit Maharashtra state you will find it in the museums and different kinds of weapons , royal swords but now the this craft has spread so much. All the domestic items are made which can be used in common life and also for decorative purpose like cigar and cigarette boxes. You can also see beautiful bidriware  items like bowls, vase, ashtray, boxes, hukka bases, jewellery boxes, glass and studded bangles etc. which are now found in several places and are exquisite piece of art work which are placed in home and offices to give appeal to the place and are growing importance in Maharashtra state and in India.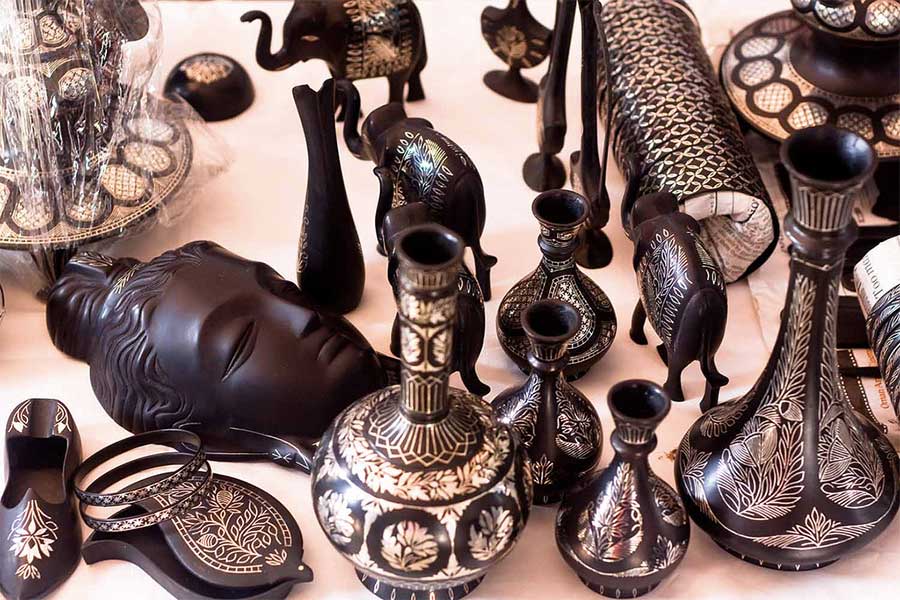 KOHLAPURI JEWELLERY – This is one of the most famous form of jewellery which is made by the artisans of the Maharashtra state. These are made at home by the local craftsmen using different styles and techniques. Kolhapur is situated at the south of Maharashtra and known as the city of goddess Mahalaxmi where excellent form of kolhapuri jewellery is made. Every woman adorns jewellery. Artisans of the Maharashtra state make different style of jewellery and hold significance in the life of the women of the state. They make jewellery using their traditional methods and beautiful ornaments like haar, maala, kohlapuri saaj, which is a name of necklace which is made in the city. Chokers are the most famous piece of necklaces which are made using gold beads, closely bound, broad bangles, thick bangles using pearls of red and white stones, nose rings, armlet etc are made in the city and are adorned by everyone and most famous in Maharashtra state.
WARLI PIANTINGS – These are one of the most famous paintings of Maharashtra. Due to large population, this state has enormous handicraft items as well which are made by the tribal group is warli paintings which is most popular folk craft of the state. These paintings are made by the tribal people who live in outskirts and earn their living by making such beautiful pieces of art on the wall. Making paintings on the mud wall of the house is the unique form of art work which is running since ancient times. When you visit Mumbai you will find in the outskirts that most of these paintings are made by the women folks, they use rice paste and straw and after finishing painting they smeared on the walls of the huts on the special occasions like marriage. Now these warli paintings are done on the paper as well and you can find them in various places in India. These paintings are made more on the religious theme. You can see that in warli paintings most of the images are of humans and animals and it depicts the normal life which includes dancing, harvesting, hunting which are different aspects of life and are themes of warli paintings.

MUSHROO AND HIMROO – It is another famous art work of Maharashtra state. When you look back at ancient times, the dresses worn by the noble people were used to be made by the blend of silver and gold threads. So much effort is required to make such dresses. Several things were kept in mind to make such dresses such as at the time of choosing the fabric the most important thing was that it should have shine which could add the appeal to it. The fabric is called Mushroo. Mushroo and himroo are the fabrics which are made of cotton and silk. It is very luxurious fabric which used to be worn by the people of royal families. These noble dresses are made keeping in mind the type of fabric and thread which is so thin and fine that gives a beautiful look of gold cloth. Several types of shawls and sarees were made by using such fine thread and beautiful shine fabric. So much bold patterns and colours are used on mushroom fabric and threads of gold and silver are woven in silk which are unique creation of royal times and are famous craft of Maharashtra state.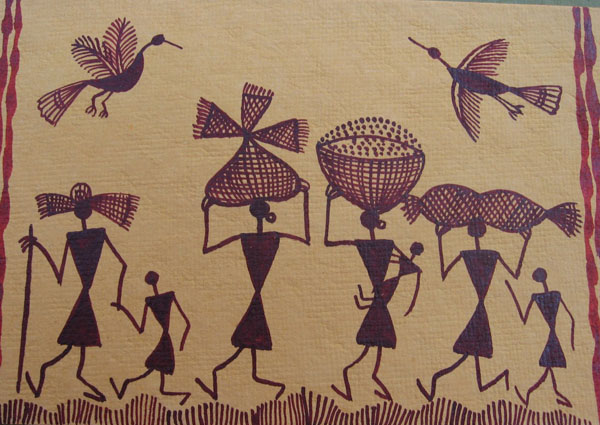 Most important part of India which is full of culture and various heritage places, caves, museums, folk music, traditional dances. Most popular festival is "Ganesh chaturthi" which is celebrated with great enthusiasm and zeal. It is a state with diversity in culture and people but live together. Different people of different religion, language, culture are found in city who creates art in their own way and by using different techniques, different religious and cultural taste they form unique combination of art and craft work which are cherished by the large number of people of not  only Maharashtra but also in India. You can see enormous art work beautifully made and carried very well in India.
View more Image